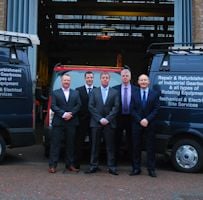 Farleys Solicitors LLP has overseen the successful management buyout of SBT Engineering Services Ltd in time to celebrate the firm's 25th anniversary.
SBT Engineering Services Ltd, based in Stretford, is the region's largest independent specialists in the repair and refurbishment of industrial gearboxes, industrial pumps and associated and mechanical plant and process equipment, predominantly provided to the waste water and water treatment industries. The business also provides mechanical site-related on-site support services to the water sector and has deals in-house with the machining and fabrication of components and plant for use within these industries. Having celebrated their 25th anniversary of the company commencing trading on the 1st of March 2015, the Manchester based business is widely recognised as a leader in what is a highly technical field of industry.
The Management buyout involved the existing directors and shareholders; William Coplin and Paul Laidlaw, bringing in three new directors and shareholders; Steven Birch, John Divinney and Matthew Bickerton. All five will now hold an equal 20% stake in the group.
Partner, and head of Corporate law Debbie King, who has worked closely with William Coplin, and the group of companies for almost a decade provided legal advice for the deal, assisted by associate solicitor Alex Singer. Completed in time for the company's year end on the 28th February, the buy out required a pre-completion re-organisation of the SBT group to extract other none core trading companies before the main trading entity was sold to the Management Team.
William Coplin, Managing Director of SBT Engineering Services Ltd commented:
"We are delighted to welcome Stephen, John and Matthew to the board. Our company's reputation is built on solid foundations of a quality service and a diverse client base, and we only expect this to increase with the newly structured team.
"It was a tight timescale to get the deal through in time for our year end but we are thrilled to enter our 25th anniversary year with such a positive start".
Debbie King, Partner at Farleys Solicitors LLP, added:
"Having worked with the firm and its directors for many years, it is really exciting to see them enter this new era with a bolstered team of Directors. We wish them the very best for another 25 years of success!"
Accountancy and tax advice was provided by Cowgill Hollaway LLP, a leading independent firm of chartered accountants and business advisors who advised SBT Engineering Services and its shareholders on the strategic options for the business and led the negotiations and structuring of the management buy-out.